Forefront's Market Notes
­
Stocks extended their November rally last week as investors cheered lower-than-forecast inflation data.
The Dow Jones Industrial Average gained 1.94%, while the Standard & Poor's 500 added 2.24%. The Nasdaq Composite index rose 2.37% for the week. The MSCI EAFE index, which tracks developed overseas stock markets, increased 3.36%.1,2,3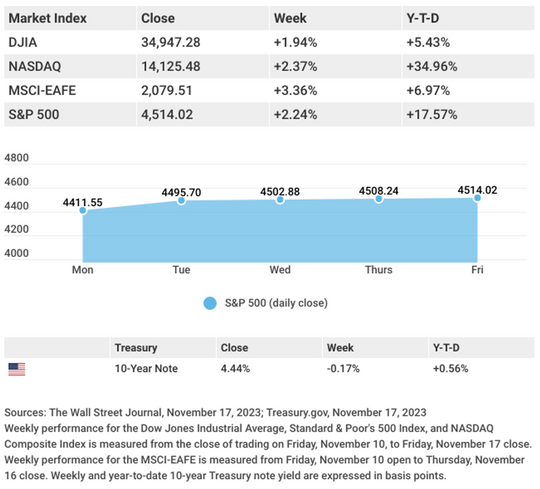 Stocks March Higher
A better-than-anticipated consumer inflation number on Tuesday sent bond yields sharply lower, igniting a powerful, exceptionally broad-based rally that saw 91% of all New York Stock Exchange volume advancing in price and a similarly substantial advance (85%) on the NASDAQ. Small-cap stock performance was solid, surging 5.2%, more than double the advance of the S&P 500.4
Further gains came the following day as wholesale price inflation rose even slower than consumer prices. The rally paused in the final days of trading as stocks digested their gains and investors assessed weak retail sales and industrial production reports and a rise in continuing jobless claims.
Inflation Cools
Two inflation reports released last week, the Consumer Price Index (CPI) and the Producer Price Index (PPI), showed continued inflation progress. Consumer prices were flat in October from the previous month, while the 12-month increase was 3.2%. Both were below market forecasts. Core CPI (excluding food and energy) also moderated, rising just 0.2% in October and 4.0% from a year ago–below forecast. The climb in the annual core CPI was the lowest in two years.5
Producer prices confirmed the disinflationary picture, as wholesale prices declined 0.5% in October (versus a +0.1% forecast). It was the biggest decline in 3 ½ years. Over the last 12 months, wholesale prices rose just 1.3%.6
Starting a New Hobby? These Tips Can Help You Understand the Tax Situation
Whether picking up painting or cooking new concoctions in your kitchen, starting a new hobby is always fun and a great way to learn something new. Did you know there are some tax considerations when starting a new hobby? Especially if you are considering turning your newfound passion into a business.
Taxpayers are expected to report any income earned from hobbies, even if it's not a licensed business. To compare, businesses are done to make a profit, while hobbies are done for recreation, not to make a profit. Here are nine factors that can help you determine whether a hobby could also be considered a business, according to the IRS:
Whether you carry on the activity in a businesslike manner and maintain complete and accurate books and records.
Whether you have personal motives in carrying on the activity.
Whether the time and effort you put into the activity indicate you intend to make it profitable.
Whether you depend on income from the activity for your livelihood.
Whether your losses are due to circumstances beyond your control (or are normal in the startup phase of your type of business).
Whether you or your financial professional have the knowledge needed to carry on the activity as a successful business.
Whether you successfully made a profit in similar activities in the past.
Whether the activity makes a profit in some years and how much profit it makes.
Whether you can expect to make a future profit from the appreciation of the assets used in the activity.
You may also be able to deduct some of the expenses associated with your hobby. Within certain limits, taxpayers can usually deduct ordinary and necessary hobby expenses. An ordinary expense is one that is common and accepted for the activity. A necessary expense is one that is appropriate for the activity.
*This information is not intended to substitute for specific individualized tax advice. We suggest you discuss your specific tax issues with a qualified tax professional.
Tip adapted from IRS.gov7
Footnotes and Sources

1. The Wall Street Journal, November 17, 2023.
2. The Wall Street Journal, November 17, 2023.
3. The Wall Street Journal, November 17, 2023.
4. CNBC, November 14, 2023.
5. CNBC, November 14, 2023.
6. CNBC, November 14, 2023.
7. IRS.gov, July 3, 2023.
Stock market calendar this week:
| | |
| --- | --- |
| TIME (ET) | REPORT |
| MONDAY, NOV. 20 | |
| 10:00 AM | U.S. leading economic indicators |
| 12:00 PM | Richmond Fed President Tom Barkin TV appearance |
| TUESDAY, NOV. 21 | |
| 10:00 AM | Existing home sales |
| 2:00 PM | Minutes of Fed's Oct. 31-Nov. 1 FOMC meeting |
| WEDNESDAY, NOV. 22 | |
| 8:30 AM | Initial jobless claims |
| 8:30 AM | Durable-goods orders |
| 8:30 AM | Durable-goods minus transportation |
| 10:00 AM | Consumer sentiment (final) |
| THURSDAY, NOV. 23 | |
| | Thanksgiving holiday, none scheduled |
| FRIDAY, NOV. 24 | |
| 9:45 AM | S&P flash U.S. services PMI |
| 9:45 AM | S&P flash U.S. manufacturing PMI |
Most anticipated earnings for this week:
Did you miss our blog last week?
About Amit: I am a first generation American, the son of a working-class Indian family, and I lived through my parents' struggle to find their place in this country, to put down roots that would sustain them as well as their children in a new land. As they encouraged me to excel in school and fostered my hobbies and interests, I was keenly aware of the dynamic between them. I understood that there was a difference between where they came from individually and where we were now. They worked hard in their individual capacities, but they weren't always on the same page about financial issues – and that can make or break a family's future. I didn't know it at the time, but this laid the groundwork for my passion towards financial services and helping families succeed.