Forefront's Monday Market Update
A big week for earnings…. And your portfolio?
Did anyone else have déjà vu last week? On Monday the headlines were all about the Delta variant of Covid-19 and markets plummeted. It was similar to last February when we would routinely see 1000-point drops in the Dow. How quickly we all forget that those who faired best during the pandemic were the ones who did the least to their portfolios, and continued to follow their plan.
Big tech earnings on board
This week we get a slew of earnings, with earnings of the major technology companies being focused on the most. We will get Tesla's earnings today, after the market closes. Tomorrow brings with it a fun day of earnings from Apple, Microsoft, and Google. The next two days are relatively light, with Facebook on Thursday and Amazon reporting on Friday. These companies represent a major portion of the growth drivers behind much of the market, so they will be watched with huge anticipation.
High expectations can lead to disappointment
Coming out of the Covid-19 pandemic we are seeing the expectation for earnings to be through the roof, and rightfully so because when you compare a business to last year when they were barely operating, one should expect their earnings to be much better. The problem is that none of these tech companies were really impacted by the pandemic. In fact, many of them, like Amazon, did even better.
I point this out because with high expectations comes the possibility of disappointment which will lead to further volatility in the markets. Just like during the pandemic, the people who will do the best are those who continue to follow their disciplined plans.
If Apple falls after earnings, does this mean you aren't going to get an iPhone, or you are going to throw away your iPad? Probably not, in fact I don't think their earnings will impact whether or not you buy a new iPad this year. Same with buying stuff with Amazon, or using Windows on your computer.
Odd lots
One of the most soul crushing exercises that I do, is after earnings are announced I follow the trades of that particular company. Following the trades doesn't let you see who is placing the trade of course, but it lets you see the quantity of shares being traded. When you see large blocks of shares being traded, 10,000 shares etc. that is normally a good indication it is an institution or fund of some sort. When you see trades of 122 shares, or 19 shares etc. that indicates the trades are being placed by individual investors. These are called odd lot trades, and the amount of them go up exponentially after earnings. Individual investors trying to zig and zag and follow the headlines and try and trade their accounts. Your portfolio is like ice, the more you touch it, the faster it disappears.
So What?
So how does this impact all of you?
There will be a lot of headlines about earnings today, it shouldn't impact your long term plan
Not meeting unreasonably high expectations does not change the thesis about a companies future reasons for success.
Stock market calendar this week:
Wednesday July 28th:
Federal Open Market Committee Announcement @ 2PM
Fed Chair Jerome Powell press conference @ 2:30PM
Thursday July 29th:
Initial and continuing Jobless Claims @ 8:30AM
Most anticipated earnings for this week: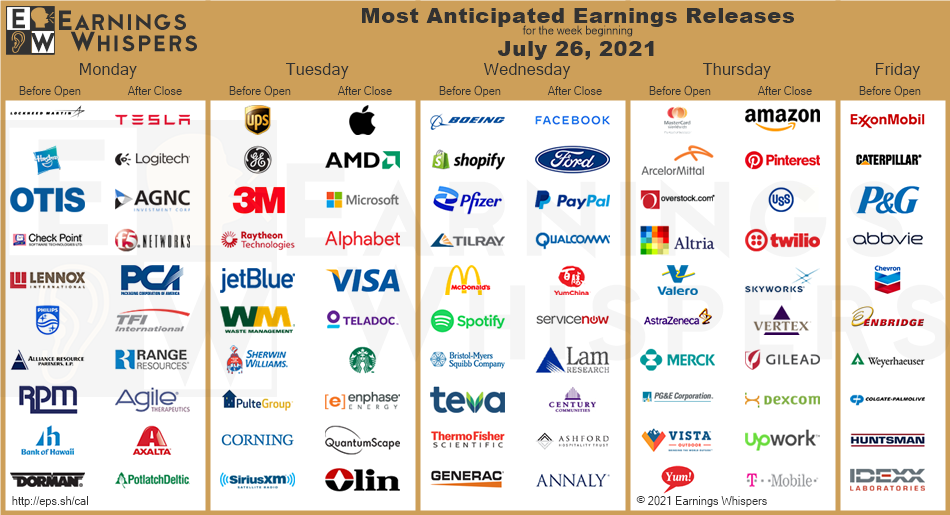 Most people spend more time researching which television to buy than they do asking the right questions when hiring a financial planner. Listen to the newest episode of
 Understanding the Power of Money
 and find out the most important questions you should be asking ANYONE before hiring them.